Tocadiscos
Introducción
No tengo ni idea sobre el tocadiscos.
Copiado

The newest version (14.2.0) of the free program sox
http://sox.sourceforge.net/
can apply RIAA equalization digitally.

But to make this whole scheme work with sox, you must
1) connect to turntable to a preamplifier with
flat frequency response, such as a microphone preamp
2) change the sampling rate field in the sound file header
so sox thinks that it was recorded at normal 33-1/3 RPM

Regarding 2), sox may have a command-line option to
override the sampling rate of the source, so 2) might
not not be necessary.

Inicio esta página sólo para anotar que sox incluye un filtro RIAA que permitiría evitar el preamplificador (aunque me suena haber leído en un hilo que no es una buena idea el hacerlo).
http://www.vanemery.com/Linux/Rip/rip-analog.html
http://www.clickrepair.net/software_download/equalizer.html
"Ripping"
Sistemas ópticos
http://elpj.com/
http://en.wikipedia.org/wiki/Laser_turntable
http://www.npr.org/templates/story/story.php?storyId=11851842
http://www.christerhamp.se/phono/poliak.html
http://visualaudio.project.eia-fr.ch/
Posibilidad de tocadiscos óptico DIY
Los vinilos son discos fabricados de vinilo. Típicamente tienen un tamaño de 12 pulgadas y giran a una velocidad de 33 1/3 RPM.
Los vinilos tienen la música grabada mediante una geometría en forma de "V" que desplaza perpendicularmente al disco (arriba y abajo) y en dirección radial (hacia al centro y hacia el exterior). Tal y como se explica aquí. Como vemos, es lo explicado pero girado 45 grados.
La imagen capturada con un microscopio de 1000x es: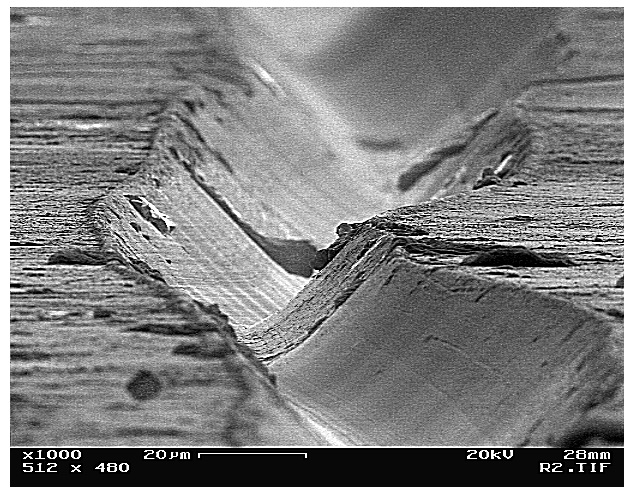 Localmente podemos aproximar el círculo a una recta. Como se puede ver aquí, las longitudes de onda de distintas señales para el anillo interior son:
1khz: 0.2mm
10khz: 0.02mm
20khz: 0.01mm
Una aguja de un sistema de audio de calidad tiene un tamaño típico de 0.004mm.
Eso significa que, longitudinalmente, se necesita una resolución mínima del orden de: 2 pixeles cada 0.01mm para obtener una calidad del orden del CD. Esto es una resolución de 2440ppp en caso de no usar ningún tipo de zoom.
La amplitud: 0.0056mm. Para obtener 16bits de precisión (256 niveles), supone poder diferenciar con precisión diferencias de 0.00001mm. Ha ese problema habría que añadir la ecualización RIAA. Eso significa que en los graves los niveles son muy inferiores por lo que se necesita más resolución (¿es esto cierto?).
El objetivo sería obtener algo similar a esto.
Proyectos
IRENE

LBNL: Reconstrucción de sonido grabado mecánicamente mediante el procesamiento de imágenes.
Wax Cylinder: reconsrucción a partir de un cilindro de cera.
http://www.kabusa.com/ttspec.htm
http://www.vinyldisc.co.uk/ELP.htm
page revision: 26, last edited: 25 Aug 2010 15:50